Battery Box is the most basic means of energy storage in Voltz aside from handheld batteries. 
Its storage capacity is 5 MegaJoules of energy (essentially 5,000 KilaJoules). Its output has a voltage of 120V and it can accept the same amount of voltage as input before a crater takes its place.
As long as the input line is equal or lower to box's supported input voltage, its amperage (Ampere/Amp/A) and wattage (Watt/W) can be anything as long as cables can support it, so there is no reason to worry about it.
Input and output faces are colored red and black in that order as is with most machines of the Universal Electricity mod.
Other forms of steel ingots can also be used.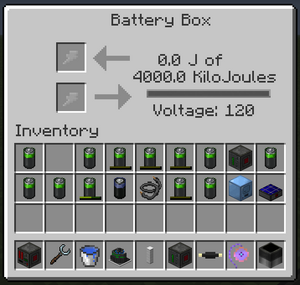 On the left of the GUI there is a charge slot (top) and decharge slot (bottom) as indicated by the direction of the arrows.
The right side of the GUI indicates how many Joules are stored of the 5 MegaJoules capacity. Underneath this is a meter showing this visually and text displaying the output voltage.
Video Tutorial
Edit