Camouflage can be used with the Wrench do multiple things. Once placed, the camouflage can be right-clicked with the wrench on side, producing a glass texture to allow for 1-way viewing. Holding shift and right clicking on a Camouflage allows for the block to be set so that players move through it, rockets and missiles will also be able to move through Camouflage blocks when players can.
Water does not move through Camouflage blocks, making it a useful material for underwater construction. Camouflage blocks can also be used to make "holes" in forcefields so that players can move through the field without sneaking. This can be used to launch missiles or rockets through the forcefield without lowering it if its used to protect a player's base.
Right-clicking on a Camouflage block while holding another block causes the Camouflage to assume the texture of the held block on all sides except those with the glass texture.
Camouflage has a severe disadvantage in that it will still let light through to the outside of Camouflage blocks. This means that although invisible during the day bases can clearly be seen at night.
Also, Camouflage blocks are invisible in Rei's Minimap, so all blocks underneath are visible. This may just be if nocollide is enabled for them.
Note: You can use any color of wool
Tutorials
Edit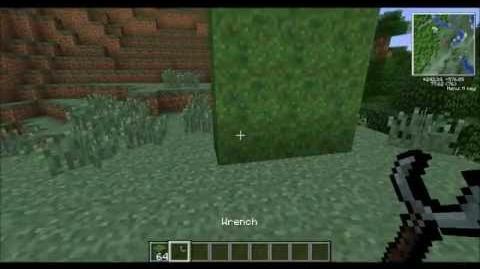 ICBM
 

Explosives

Tier One

Tier Two

Tier Three

Tier Four
Ad blocker interference detected!
Wikia is a free-to-use site that makes money from advertising. We have a modified experience for viewers using ad blockers

Wikia is not accessible if you've made further modifications. Remove the custom ad blocker rule(s) and the page will load as expected.