The Energy Cube is part of the Mekanism Mod.
It can be found in 3 different colors, depending on its internal storage capacity varying from 1000kJ (Basic), 2500kJ (Advanced) and 5000kJ (Ultimate).
It's output remains steady through all versions at 120Volts. (1 kJ = 1 kiloJoule or 1000 Joule)
Basic Energy cube
Edit
Advanced Energy Cube
Edit
Ultimate Energy Cube
Edit
GUI and I/O
Edit
The GUI of the Energy Cube is simple to use. 
The - input box can house a Battery and the battery can provide power to the cube.
Whereas the + output box is used to provide power to a smaller portable power source like a battery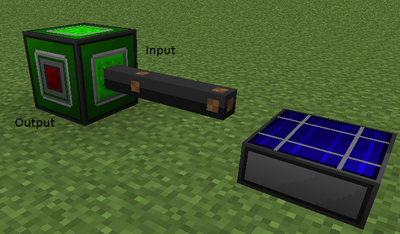 The I/O of the Energy Cube are fairly simple to work out too. 
Any Green side of the cube are inputs for power sources and the red side is an output (120v).
Contrary to the Battery Box and Advanced Battery Box, the Energy Cube will not explode while accepting higher Voltage than it's supported Output. That makes them excellent buffered transformers. 
Below: A solar panel (Output 256V) powering up a Basic Energy Cube (120V) powering up an Advanced Battery Box (240V) powering up another Basic Energy Cube (120V) powering up a Battery Box (120V) powering up the air.