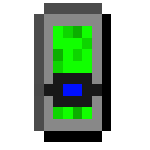 Energy tablets are much like batteries. They take power from a power storage unit (such as an Energy Cube) and store power within themselves. This power can then be transferred into an Energy Cube or used to power a Mekanism machine as an alternative to a Coal Generator or a Solar Panel. They are crafted fom two Enriched Alloy, three Gold Ingots, and four Redstone.
Ad blocker interference detected!
Wikia is a free-to-use site that makes money from advertising. We have a modified experience for viewers using ad blockers

Wikia is not accessible if you've made further modifications. Remove the custom ad blocker rule(s) and the page will load as expected.