The Enrichment Chamber is a machine added by the
Mekanism
mod. This machine is best used for Gold and Iron ores, the machine will process them into 2 dusts of the same type. You can then smelt the dusts into 2 bars, doubling your production of bars per ore. This also turns copper and tin to dust but use the
Purification Chamber
for those ores as you will get 3 clumps for processing for each ore.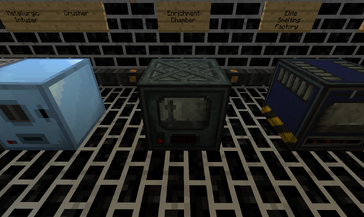 It also takes Coal and will create Compressed Carbon.
The Enrichment Chamber requires power to operate.
The Enrichment Chamber will also crush Obsidian into Obsidian Dust .
To power the enrichment chamber, use a battery (charged), or an Energy Cube and wire.
Ad blocker interference detected!
Wikia is a free-to-use site that makes money from advertising. We have a modified experience for viewers using ad blockers

Wikia is not accessible if you've made further modifications. Remove the custom ad blocker rule(s) and the page will load as expected.