The Fission Reactor is a type of nuclear reactor which uses a Fissile Fuel Rod to initiate a fission reaction.
Description
Edit
The reaction will heat up nearby water blocks(which don't necessarily have to be source blocks) and start turning them into steam. The steam can be utilized by a turbines to generate electricity, which is then sent out through your copper wires. To place a Fissile Fuel Rod in the reactor, right click the reactor with the rod in your hand.The reactor can also give any nearby mobs or players without Hazmat Suit radiation poisoning. This lasts for 60 seconds and will damage the mob/player until it dies, or until the effect wears off.
If the temperature in the reactor reaches 2000°c, the reactor will explode leaving a lava source block where the reactor used to be, which will instantly be converted into obsidian because of the water, if you didn't forget to put it in. It wil also destroy several surrounding blocks and convert several of them into Radioactive Material. To avoid this you can set your Thermometer to have a warning at 1800/1900°c, which will emit a redstone pulse that could be used to activate a Sticky Piston, which would then push a Control Rod, and in turn, decrease the temperature of the reactor.
A better single reactor setup is to use 3 control rods, 2 operated by sticky pistons and levers and 1 control rod always active. A reactor controlled with 1 rod will operate steadily at +/- 1800 degrees Celsius, without a control rod it will overheat. When you want to stop the reactor activate the other 2 control rods. With 3 active control rods the reactor will not consume the fission rod, with 2 it does very slowly. The control rods should be placed adjacent to the reactor. This setup will leave 1 side free to insert or extract the fission rod and it is so safe it can do without a thermometer.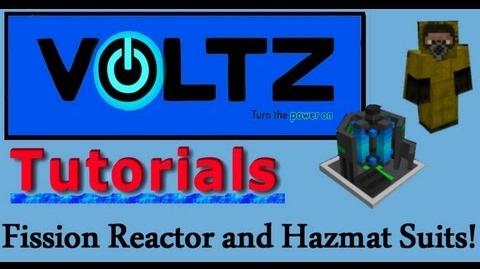 Known Bugs
Edit
In Voltz 1.1.3 (non creative mode) the fission reactor can't be operated. To get fissile fuel rods, a machine is needed that can't be crafted (nuclear boiler). Besides that one, a chemical extractor and a centrifuge are needed to process Uraninite.