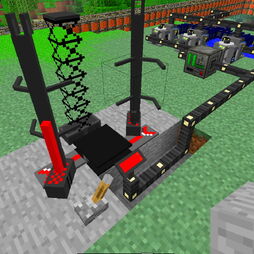 Launcher Control Panels are part of
ICBM
mod. They are an essential component for launching missiles after
Launcher Platforms
 as they allow the input of coordinates and they send a launch signal, adding additional options to missile launch with every tier.
Description
Edit
Control Panel must be hooked to the middle of either flat sides of a Launcher Platform. Every Control Panel allows inputing basic X and Z coordinates of the target. The launcher is activated when a redstone signal is applied to the powered control panel, firing the missile.
There are 3 tiers of Control Panels labeled T1, T2 and T3.
Each tier after T1 adds additional options to missile launch:
T1 - Adds basic X and Z coordinates required to launch missiles.
T2 - Adds Detonation Height and Lock Height options as well as T1 options.
T3 - Adds Frequency option as well as T2 options.
Detonation Height - Used for mid-air detonations and warning shots, it represents Y coordinate at which missile will explode. NOTE: Depending on the angle of impact, high Y coordinate can cause your missile to completely miss its X and Z coordinates if AoE is small.
Lock Height - Represents the Y coordinate at which missile will start turning towards its target. Especially useful if Launcher Platform is inside a building or a silo to prevent the destruction on your own base.
Frequency - Allows you to coordinate your entered frequency with a Laser Designator, allowing you to remotely launch missiles from platforms with T3 Control Panel. To use enter random frequency (1-9999) in your panel and right click it with Laser Designator. Right clicking with Designator on any other target afterwards (other than Control Panel) will call an Air Strike, and after 5 seconds missile with be launched.
Each tier of Control Panel requires different amounts of power and receive different voltages:
T1 - 400.0kJ, 120.0v
T2 - 600.0kJ, 240.0v
T3 - 800.0kJ, 480.0v
To power the Launcher Control Panel, you need to attach a wire connected to a power source or battery box to any side of it (including bottom).
Higher voltage then accepted by used tier will cause the Control Panel to explode, also destroying both Launcher Platform and Launcher Support Frame if present.
You can also input coordinates with a Radar Gun.
ICBM
 

Explosives

Tier One

Tier Two

Tier Three

Tier Four
 

Others

Machines

Turrets

Electric Items

Miscellaneous
Ad blocker interference detected!
Wikia is a free-to-use site that makes money from advertising. We have a modified experience for viewers using ad blockers

Wikia is not accessible if you've made further modifications. Remove the custom ad blocker rule(s) and the page will load as expected.