The Osmium Compessor is a part of the Mekanisim Mod. Read below for information on usage.
It Consumes 120v and is used to combine Osmium with different dusts.
GUI and I/O
Edit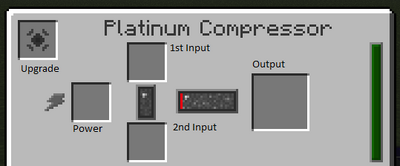 The GUI of the Osmium Compressor is simple to use.
The Upgrade box allows for different upgrades:
Speed Upgrade
Energy Upgrade
Ultimate Upgrade
The Power box is used if you only have a portable power source. Such as a Battery
1st Input is where you place your dust of choice:

2nd Input is where you will place your Osmium Ingot.
The ingot is instantly absorbed by the machine and awaits the 1st input dust.
And the Output is where you will get the corresponding ingot:
Ad blocker interference detected!
Wikia is a free-to-use site that makes money from advertising. We have a modified experience for viewers using ad blockers

Wikia is not accessible if you've made further modifications. Remove the custom ad blocker rule(s) and the page will load as expected.