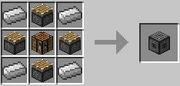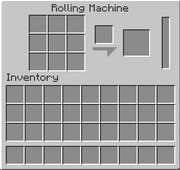 The rolling machine is a utility from RailCraft used for making rails, rebar , and metal posts.
One of the problems with this is that NEI won't show recipes on the rolling machine, but it will be fixed seeing how this isn't a problem in Tekkit.
The rolling machine normally uses BuildCraft power, but in Voltz, you need to put the output side of an energy cube directly on it.
The rolling machine requires: 
8 Iron ingots
16 wooden planks
4 redstone dust
16 cobblestone
The rolling machine can also be powered by an engine.